Ahead of Derrick's Red Bull show in Madrid and the final party at Pacha Ibiza, he gave an exclusive mix and rare interview to Spain's most respected newspaper, El Pais.

Visit El Pais website for the mix and the Spanish text, the English version of the interview is below...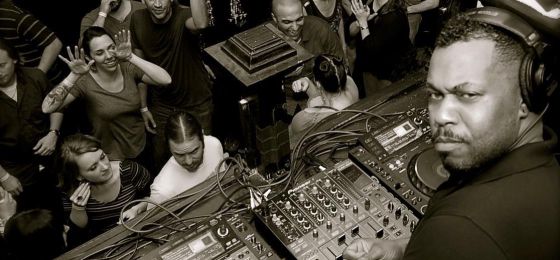 -Did you really start deejaying when you were 10? How was that?

Actually, I was nine when I got my first taste of dj'ing for a crowd. It was at a family reunion and was really the spark which kicked off my interest in it. I'd play music at family functions and small parties that my parents would host but this was the first time I used two turntables and a mixer.

-What were you listening to at that time?

Mostly whatever was popular on the radio. Disco, R&B, Funk, lite jazz...stuff like that.

-How did you get music when you were a kid?

My mom would take me to the record store. My parents bought records and when they'd go, I'd go and beg and plead for them to buy certain records or by me things when I was was good instead of giving me an allowance. Later on, I'd take the money from my allowance or from mowing lawns, shoveling snow, or cleaning gutters in my neighborhood and purchase them myself.

-Do you remember the two first records you could synchronize?

Yes, I do. It was Martin Circus - "Disco Circus" & Visual - "The Music's Got Me"

-What do you think about all this EDM scene? It seems like a very amnesiac movement.

I don't think about it. Just like I don't really listen to much rap, country, or polka music, I don't listen to much in the way of "EDM". It doesn't appeal to me or have any kind of allure that I find which resonates with my tastes.

-How the evolution of technology has affected music and deejaying? (sometimes everything seems too similar, too easy).

It has allowed more people to call themselves "DJ's", that's for sure.
For me, it makes some of the more intense parts, easier to manage.
I don't have to carry eight or nine crates with me if I'm playing an extended set.
The thing I like the most is being able to go "from farm to table". Making things in my studio and then being able to play them and try them out right away.

-You started working in a record shop. A place where a lot of things around music happened. Nowadays there are no more this kind stores. Everything is bought online... How has changed this thing the relation with music? (in case it has)

Record stores still exist. The record store, "Gramaphone" which I have been going to for nearly 25 years is still open and doing business.
The majority of laptop DJ's do primarily buy music online...I do too...but there are still record stores. I do remember that the shops were a great place to meet and greet people. To make connections and find out info. To promote and foster a bit of a community. It was cool. But hey, things change. People don't go to drive-in theaters to watch films any longer. They don't ride horses to work or go to a blacksmith to have things made. The whole world is online. People order everything from clothes, to food, to furniture online. Why would buying music be any different?

-It seems you've made the majority of your work overseas, especially in Europe. Why didn't you ever move?

I lived in London for a while. I've spent an extended amount of time in Paris as well.
But, I'm not European and Chicago is my home. I love Chicago and am in a committed relationship with it.

-Why the Detroit and Chicago music were more appreciated in Europe than in the US?

I don't know. Maybe it's more exotic to Europeans. I find that when I play shows, I get about the same number of people at my US shows as I do at the European ones.

-What do you think about this huge house revival we are living? Sometimes it looks people are producing replicas from the past, like this Andres 'New For U'.

I don't know Andres or that song. But, I will say that most things happen in a cycle. Maybe it's just the right time.

-What do you think is going to be the future of dance music? How do you see the new generations?

I am a DJ not a prophet. I don't really spot trends or worry about the future. I do a serious "right now" and try to make the most of every moment.

-Do you think you can get tired of your work DJing?

I still love it but the truth is that it evolves for me. I see it much more as "work" now than I used to. I am trying to be more professional and do what it takes to do the job properly.
So no, I don't get tired of it in general. I do have good days and bad days like anyone else. I also am not a fan of 8-10 hr flights every week but, it's all part of the situation that I'm in. I'd never complain to anyone other than my manager and my travel agent.

-How's the city of Chicago right now? And the music scene?

Chicago is warm and sunny. My favorite time of the year! And, the music scene is fine. There is SO much talent here and plenty of places to hear good music. Bars, clubs, street festivals...everywhere. It's healthier and more diverse that a lot of places.

-What do you think of Obama's work during these years. Were you disappointed, like a lot of people who voted for him (in case you voted for him)?

I don't do politics.

-You are coming to Spain next week. What do you know about the Spanish scene and what do you think about it?

I've had great times there. Everyone has been quite nice to me and I look forward to every visit. Plus, you guys have some good ham.

-How's the mix you've made?


AWESOME!


Listen to the mix here: http://cultura.elpais.com/cultura/2013/10/01/actualidad/1380643400_562566.html